Similan Island, PHANG NGA Province in Tailand
The postcard perfect place of Thailand, Similan Islands, has a group of nine upwellings formed by hot magma and it is located off the coast of Phang Nga Province in southern Thailand. Every year, the island witnesses a melange of travellers and thrill seekers coming from all directions to partake in activities like diving and island hopping.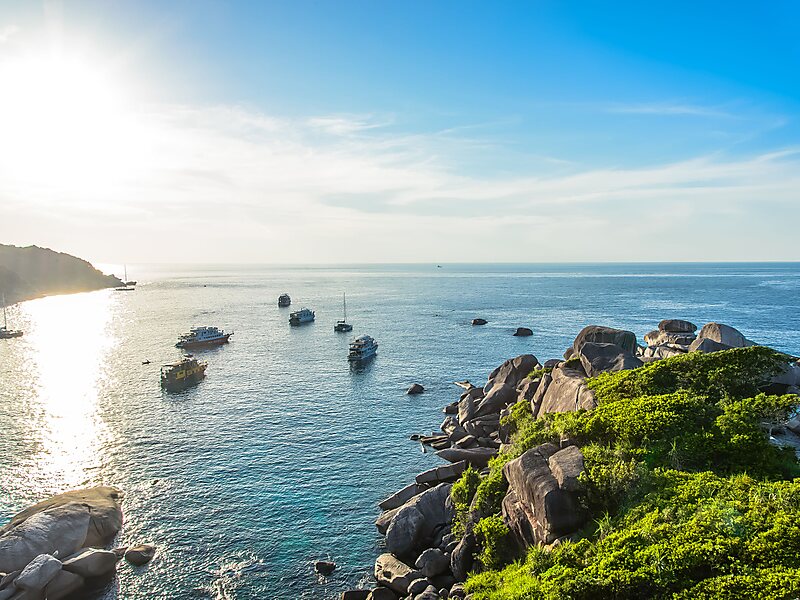 These islands boasts its rich coral reefs and underwater rock formations that offer divers a fascinating experience. Two mostly visited sites by divers are the East of Eden and Elephant Head Rock. Similan Islands are best visited during March when the water is clear and air is calm, it is then you get to witness colourful species of fish wiggling their tail fins amid turquoise waters surrounding the Similan Islands.
Dive sites
Similan National Park is famous for its dive sites. It has typically two different kinds of diving. East side diving consists of gently sloping coral reefs with sandy patches with the occasional boulder in-between. The west side is known for its huge underwater granite boulders with numerous swim-throughs. Maybe the most famous east side dive site is East of Eden, off island number 7. Elephant Head Rock is arguably the most famous west side dive site with a maze of swim-throughs and the reputation for spin-cycle like currents running in every direction.
Elephant Head Rock was named by Horst Hinrichs from Germany in the mid-1970s, founder of one of the oldest dive shops in Phuket, Santana Diving.Other popular dive sites include North Point, Deep Six, Boulder City and the awesome pinnacles off Ko Bon and Ko Tachai.
Click Here : – Visit Similan Island, PHANG NGA Province in Tailand